日本語の歴史
Japanese Historical Linguistics
An International Web Page for Research on the History of the Japanese Language
New
Whitman, John. 2011. Linguistic ecology in Northeast Asia and the advent of rice agriculture in Korea and Japan. Rice 4:149158.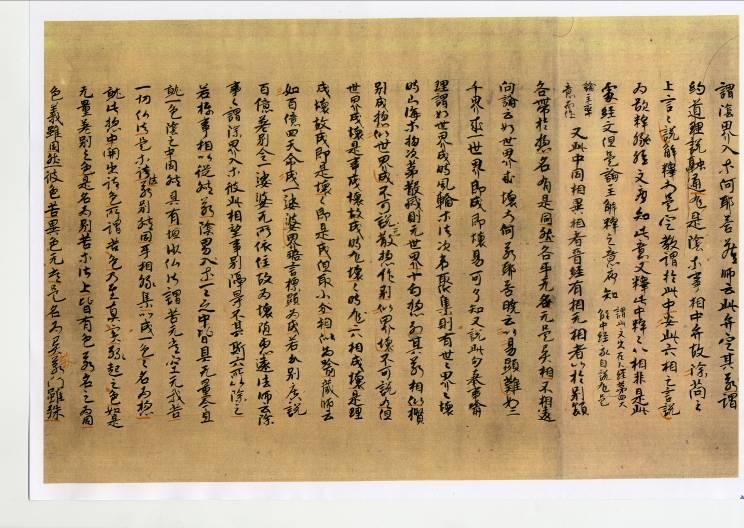 Satō-bon Kegon mongiyôketsu (佐藤本華嚴文義要訣), Nara period. Original text destroyed during World War II. Compiled by the Silla monk P'yowŏn 表員 of Hwangyong-sa (皇龍寺) temple in the early 8th century; brought to Japan prior to 751. Text on the back of the more famous Tōdaiji fujumonkō (東大寺諷誦文稿 late 8th, early 9th c.). Kunten in brown ink, thought to date from around 800, are among the earliest attested in Japan; they include simple wokototen (ヲコト点), punctuation marks, and kaeriten (reversal marks; 返り点). It is unclear whether they were added to facilitate reading of the text in Korean or Japanese, or both. See Kobayashi Yoshinori (2004) Kakuhitsu bunken kenkyū dōron (jō) Higashi Ajia hen (角筆文献研究導論(上)東アジア篇). Tokyo: Kyūko Shoin.
Papers on Kunten and Kanbun Kundoku
Whitman, John et al. 2010. Toward an International Vocabulary for Research on Vernacular Readings of Chinese Texts ( 漢文訓讀 Hanwen Xundu). Scripta 2, 1-36.
Whitman, John. 2011. The ubiquity of the gloss. Scripta 3, 95-121.
Course Materials
Syllabus for LSA.239 | The Syntax of Pre-Modern Japanese
Readings for LSA.239 | The Syntax of Pre-Modern Japanese
DIGS[1].02-Watanabe.pdf
Ergativity[1].05-Aldridge.pdf
Kobe[1].05-Kuroda.pdf
WAFL[1].05-Watanabe-final.pdf
JBW 2005 Preverbal negation in J&K.pdf
JBW 2000 Relabeling.pdf
Miyagawa & Ekida 2002.pdf
Handouts for LSA.239 | The Syntax of Pre-Modern Japanese
Watanabe[1].7.26.handout.pdf
Watanabe[1].7.28.handout.pdf
Watanabe[1].8.2.handout.pdf

Bjarke Frellesvig's Japanese Handouts
1 Writing and Sources.pdf
2 The Phonology of OJ.pdf
3.1 Pronouns.pdf
3.2 Loanwords.pdf
3.3 Particles.pdf
4 Verbs and adjectives.pdf
5 GRAMMAR formation and katsuyookee.pdf
Bibliography.pdf